Does Endoscope Reprocessing Help Keep Patients Safe?
Keeping your medical equipment sterile with endoscope reprocessing is the best (and cheapest) way to ensure your patients' health and safety. Scopetech's automatic endoscope cleaner system promotes confidence in a completely thorough sterilization process. The automatic endoscope cleaning procedure begins by dismantling the scope before cleaning it entirely with an endoscope autoclave. 70° endoscopes, as well as 0° and 30° scopes, are entirely autoclavable. After the scope has been sterilized, new parts are added as needed. Endoscope reprocessing steps are relatively simple and repairing your scopes will save you thousands of dollars.
We Buy Endoscopes is the best of the best of endoscopy-related companies, offering premier endoscope repair services to help keep your medical practice up and running.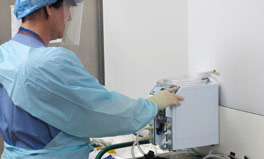 What Do Scopetech Autoclaves Feature?
Some of the incredible features that Scopetech autoclaves have include:
Remove the need of manually syringing of scopes and the possibility of repetitive strain injury by providing you with an easy to use an automated system
Low voltage unit eliminating possible health and safety concerns
Built-in detergent pump giving accurate dispense using 'flow meter' technology
Built-in leak tester with adjustable output to suit individual scope manufacturers pressure settings
Temperature monitor incorporated to ensure optimum product temperature is achieved
Traceability as per CFP 1-06 guidelines for leak testing and the manual wash process
USB connectivity offering easy input and retrieval of scope data
Incorporates user names and scope barcode numbers for traceability
Built-in cleanse cycle to eliminate contamination risks
Minimizes AER failures by providing a thorough first stage clean
Used in conjunction with the Serchem product range offers a simplistic easy to use manual clean process