Endoscopic Surgical Instrument Repair
Trust Advanced Endoscopy for all your endoscopic surgical instrument repair needs. Having the right tool is an essential part of any profession. Of course, if you are in the medical field, having the right tools can get expensive really quickly. When something around the office stops working properly, you sometimes wonder if it is really worth replacing. Rather than having to buy totally new equipment, you should consider a company that will repair endoscopes for you.
At Advanced Endoscopy, Inc. we not only buy and sell new and used endoscopes, but we also perform all the medical equipment repair work you might need. This helps you to save money where you can and ensures you still have the equipment you need. Whether it is a flexible or rigid endoscope, we can help ensure it is in good condition.
Why should you Repair Your Endoscope?
An endoscope is a delicate and important piece of medical and surgical equipment. The endoscope is literally a life-saving invention but also a very fragile invention. Misuse or mishandling of an endoscope can easily result in damage to the instrument. With such precision medical and surgical tools, even the slightest dip in function or bit of damage can render such tools unusable. Endoscopes can become damaged through routine use; some of this cannot be prevented and is similar to normal wear and tear. Some signs that your endoscope is in need of repair from normal wear and tear are holes in the rubbers, angulations system adjustment and weak insertion tubes. When you observe any of these signs, it is time to get that endoscope repaired and refurbished, wear and tear are most likely having adverse effects on the function of the endoscope. Damage that is preventable and provides telltale signs that the endoscope is in need of repair are incidents like repeatedly finding holes in rubbers, insertion tubes bending or buckling, damage to the light fibers and air or water nozzle clogs. The costs for replacement of quality endoscopes can be astronomical, even for medical professionals, ranging into the tens of thousands of dollars. That is why you, as an informed medical professional, should take advantage of the services offered by us at We Buy Endoscopes and have any damaged tools you have sent to us for immediate repair. We use cutting edge technology and our expert team has all the tools to ensure that the costs to you are kept to a minimum while restoring your endoscope to one hundred percent function. Repairs are much cheaper than replacement, as well as the familiarity of an often used endoscopy instrument.
What Can Happen With a Faulty Endoscope?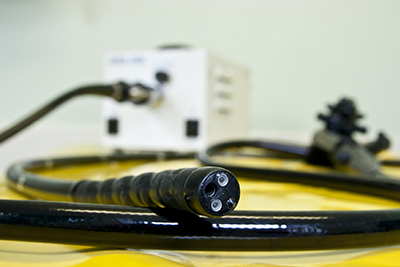 If your endoscope is damaged, it can have some very disastrous and detrimental consequences to your patients and to your status as a medical professional. Recognizing the need for repair and taking the necessary actions to get repairs done can be crucial in preventing issues with endoscope use. Some medical problems that can occur in patients through use of a faulty or damaged endoscope are internal tears, which may lead to internal bleeding; transmission of infections; internal pain and soreness at endoscopy site; fever and blood in the stool. A worst-case scenario and medical professionals nightmare is a scenario where a piece of the endoscope breaks off and becomes lodged within a patient's body.
Why Repair Endoscopes instead of buying a new one?
If you have purchased an endoscope for office use before, then you understand just how expensive they can be. Even a rigid endoscope can cost around $8,000-$10,000 dollars, depending on where you find it. Those who work with flexible endoscopes have likely spent $40,000 or more to buy new equipment. Instead of spending this type of top dollar to get new equipment, repairs can actually save you quite a significant sum of money. This lets you focus on your practice without worrying about keeping the lights on.
Get the Quality Repair You Need
Of course, some doctors are hesitant to use a repair service in fear that it might not be done properly. With the professionals at Advanced Endoscopy, you don't have to worry about this type of situations. Our staff is highly trained and understands the different applications these devices are used in. As such, they are able to provide the best endoscope repair work available today and they do it at a cost you can afford.
What Type of Endoscope Do You Need Repaired?
Working with both flexible and rigid endoscopes, we give you options when it comes to repair. Perhaps you use a simple rigid scope like a Storz or Stryker to perform diagnosis. Or, maybe you still use a flexible fiber, which has become less common today. Since our team of professionals is equipped to repair this, you can order the service without fear. Alternatively, you might have already upgraded to a video flexible scope, which you use to perform more advanced procedures. Though you might think endoscopic repair parts would be pricey, we will work with what you have to get the best results without the outrageous costs you might find elsewhere.
Repairing your Flexible Endoscope
When you send us your damaged or faulty flexible endoscope, the very first thing we will do is sterilize and perform diagnostic tests to determine any and all faults, and how much function and what level of function is being obtained from the endoscope. Once our diagnostic team has determined a full set of results, we proceed to complete disassembly of the endoscope, down to the smallest parts. Faulty parts will be replaced with manufacturer standard replacement parts, ensuring that you get a function that is equal to buying a brand new endoscope. After repairs and replacement, the endoscope is reconstructed and put through rigorous testing to ensure it is in perfect working order. We then ship you your completely repaired and now functioning endoscope in just as it was new condition. We understand just how important it is to have a function that is exactly as that of a brand new item and We Buy Endoscopes delivers this standard every time.
Repairing your Rigid Endoscope
Similar to the process for flexible endoscopes, the repair process for rigid type endoscopes starts with thorough diagnostic testing to determine any and all faults and repairs that may be necessary. We then completely disassemble the endoscope and can perform any and all manner of repairs as necessary. Our expert technical and engineering teams are well equipped with all the necessary replacement parts to handle any and all types of repairs, to any of the parts or systems of the endoscope. After full repairs are conducted the endoscope will be reconstructed to manufacturer standard. We Buy Endoscopes will then conduct rigorous tests to ensure that your endoscope functions like it was just received new from the manufacturer.
Endoscopy Equipment and Accessories
Between brushes and biopsy valves, polyp traps and mouthpieces, We Buy Endoscopes has all the equipment and accessories for everything endoscopic. We carry an amazing supply of various channel cleaning brushes, mouthpieces, biopsy valves, suction and quick catch polyp traps, distal attachments and much more.
Endoscope Repair- Process, Function and Logic with We Buy Endoscopes
We Buy Endoscope is an industry leader in not only endoscope retail, but we also specialize in the repair of this important medical tool. Send us your damaged endoscopes, whether rigid or flexible and our expert team will perform all the repair processes for you. We are highly rated in the medical supply field and we are well equipped to restore full and proper function to any damaged or faulty endoscope you need us to repair. Why spend tens of thousands of dollars to replace an endoscope when professionals are here to assist and save you money and time. Our repair processes for flexible and rigid endoscopes as well as some of the problems that can arise from using a faulty endoscope are detailed next.
Your Number One Destinations for Endoscope Repair Services
When it comes time to service your equipment, remember that you don't need to spend your entire quarterly budget for supplies. Instead, a good company can help repair endoscopes and give you the peace of mind in knowing that your equipment will work as well as it once did. This way, you can give your patients the care they deserve and still have that little extra left over to ensure you are prepared for any unexpected expenses that might pop up. Ultimately, our goal is to support you with what you need and we do that by providing the best endoscopic repair service available today.
We Buy Endoscopes.Net
Just as your endoscope is an important tool in ensuring your client's health standards remain high, so too is the good working condition of your medical equipment of paramount importance. Most medical professionals will attest to the importance of the endoscope in their daily discharge of their duties as professionals. Most of these same medical professionals, especially doctors can also attest to the high costs of replacement of a damaged or faulty endoscope. Costs for replacement of even the simplest endoscope available on the market today can run to several thousands of dollars. That is why you can now turn to us at We Buy Endoscopes, we offer a high-quality endoscope repair service that can better assist your budget and help you manage expenses. We work with you to determine a fee structure that not only reflects the quality of work done but is satisfactory to both parties.