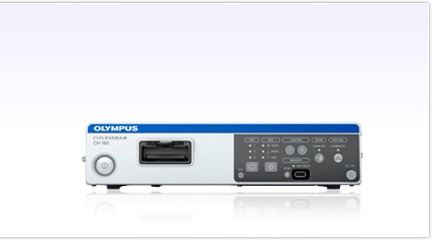 Olympus CV-190 Video Processor
The EVIS EXERA III Video System Center CV-190 offers simple access to a whole range of advanced diagnostic features incorporated into EVIS EXERA III endoscopes. A range of improvements assist in obtaining endoscopic images with maximum diagnostic yield whilst advanced Picture-in-Picture functions improve ergonomics in the endoscopy room.
Dual Focus
Dual Focus, a unique OLYMPUS innovation based upon an innovative two-stage optical system enables the user to switch between two focus settings. With the simple push of a button, the desired observation mode can be selected: "near mode" featuring ground-breaking resolving power for close mucosal observation or "normal mode" for normal observation. Even in "normal mode", EVIS EXERA III endoscopes feature an advanced level of resolving power compared to previous generations.
Brighter and higher contrast Narrow Band Imaging
NBI in EVIS EXERA III offers a significantly increased viewable distance compared to previous generations. The improved contrast combined with this increased brightness means that NBI opens new possibilities in assisting you in lesion detection and characterisation.
Pre-freeze
An exciting new feature, pre-freeze automatically selects the sharpest image when the image is frozen by the user.
Improved image processing
New and improved image processing delivers outstanding image quality thanks to reduced noise, reduced halation and improved colour contrast. The result: the optimum in image quality
Waterproof One-touch Connector
The new one-touch Connector enables a one-step connection to the light source and does not require a separate video cable for connection to the video processor. This saves time during procedure setup and dismantling.
Variety of signal output options
A whole range of signal output options are available dependent upon the monitor attached to the CV-190, enabling you to achieve the optimum image for the installed infrastructure. 16:9 and 16:10 format is available for HD monitors.