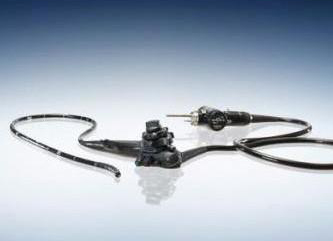 Olympus GIF-H180J EVIS EXERA II Gastroscope
The Olympus GIF-H180J EVIS EXERA II Gastroscope (H: high definition) is in excellent condition and certified to proper operating specifications.
Warranty: 90 Days Parts and Labor.
The EVIS EXERA II GIF-H180J Gastroscope offers the best combination of image quality and convenience in an upper GI scope. With its ultra-high-quality HDTV image and support for Narrow Band Imaging (NBI), as well as its close focus optical system, the GIF-H180J excels in terms of image quality. What sets the GIF-H180J apart from other HDTV gastroscopes is the addition of a forward water jet function in a 9.9 mm outer diameter scope, giving endoscopists the ultimate in convenience and clinical value for EGD procedures.
Olympus GIF-H180J EVIS EXERA II Gastroscope Benefits:
Superior Image Quality and Observation: An HDTV-compatible CCD chip delivers sharp images to help physicians provide accurate screening and diagnosis, and a close focus optical system allows detailed observation without electronic magnification.
Narrow Band Imaging: NBI capabilities enhance observation of capillary and mucosal structures.
Forward Water Jet: An auxiliary water channel flushes out blood and mucus inside the upper gastrointestinal tract, helping to ensure a clear view at all times.
Slim Design: With a 9.9 mm diameter distal end and insertion tube, the scope delivers excellent insertion capability.
Specification
Direction of View
Forward viewing
Depth of Field
2 - 100 mm
Outer Diameter Insertion Tube
9.9 mm
Max Angulation Right
100°