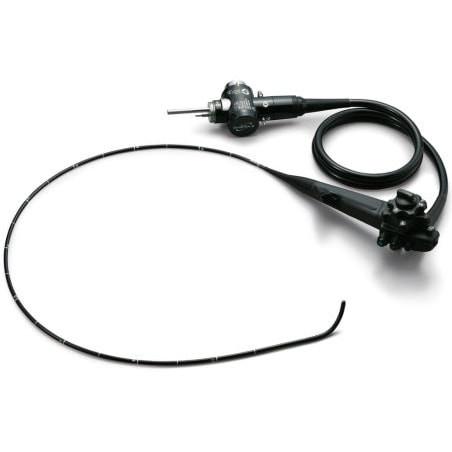 Olympus GIF-XP180N Extra-Slim Gastrovideoscope
The Olympus GIF-XP180N Extra-Slim Gastrovideoscope is in excellent condition and certified to proper operating specifications.
Warranty: 90 Days – Parts and Labor.
The GIF-XP180N EVIS EXERA II sets a new standard for maneuverability in gastrointestinal procedures with its four-way angulation. This enables comprehensive observation of the upper gastrointestinal tract while ensuring improved flexibility. It is ideal for transnasal insertion, small anatomy, and stricture applications.
With NBI compatibility, the GIF-XP180N delivers sharp, bright images that clearly depict mucosal details. It is also compatible with Narrow Broad Band Imaging, enabling enhanced observation of microvessels and subtle alterations on the mucosa.
The super-slim design will allow routine examinations to be performed with little or no sedation, shortening pre-procedure and post-procedure time. Less time will be needed for preparation, patient monitoring, transportation, and recovery.
Olympus GIF-XP180N Extra-Slim Gastrovideoscope Features:
Super-slim diameter at distal end and insertion tube offers exceptional insertion capability to help enhance patient comfort. Insertion possible with minimal or even no sedation.
NBI function is available in combination with the CV-180 and CLV-180.
High image quality with outstanding clarity and sharpness as well as enhanced brightness.
2.0 mm diameter instrument channel enables the use of a wide range of Endotherapy accessories including biopsy forceps.
120° field of view enables accurate observation of a wide area.
Ergonomically designed grip enhances scope maneuverability while easy-to-access controls and user programmable switches improve operability.
Fully compatible with the CV-180, 160, and 140.
Scope ID function stores individual scope information on the built-in memory chip and displays it on the monitor, facilitating operation of an endoscopy suite.
Specification
Direction of View
0° Forward viewing
Depth of Field
3 to 100 mm
Distal End Outer Diameter
5.5 mm
Insertion Tube Outer Diameter
5.5 mm
Minimum Visible Distance
3.0 mm